Thanksgiving Food Drive for the Food Bank of Delaware
November 8, 2017
Help us bring hope to the table this holiday season!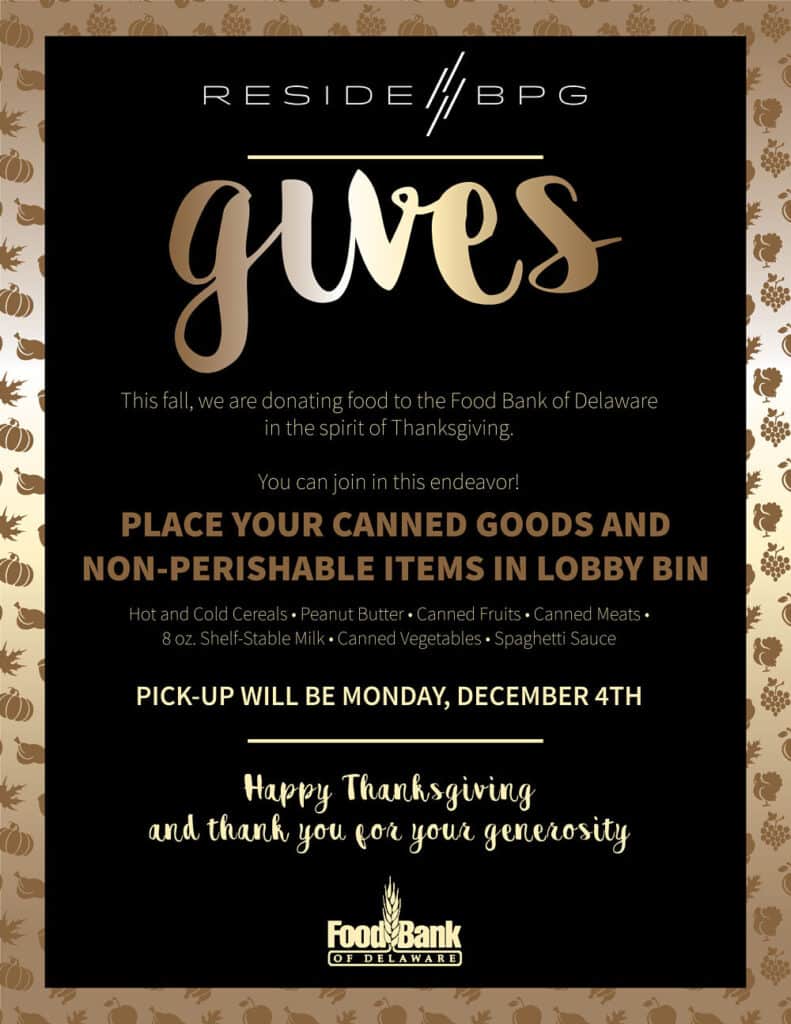 In the spirit of Thanksgiving, we will be participating in a food drive for the Food Bank of Delaware. Collection boxes will be located in our leasing office on the first floor. All food will be picked up on Monday, December 4, 2017.
The Food Bank of Delaware relies heavily on local support to provide enough food to serve close to 242,000 Delawareans each year. Their mission is to provide nutritious foods to Delawareans in need and facilitate long-term solutions to the problems of hunger and poverty through community education and advocacy. They achieve this by providing low-cost and no-cost food to qualified feeding programs throughout the greater Delaware region; informing the greater Delaware community about hunger issues and food security; mobilizing support for anti-hunger efforts; training and empowering unemployed individuals to fill needed positions within the food service industry; and developing and implementing statewide nutrition programs to assist low-income families, individuals and children.
Critically needed items include foods that are high in fiber, but low in sugar and sodium, such as hot and cold cereals, canned fruits, canned meats, peanut butter, grains, canned/dried beans, canned vegetables, and spaghetti sauce. The Food Bank of Delaware will also accept nonfood items, such toiletries and paper products.
The Residences at Rodney Square is proud to partner with Food Bank of Delaware this giving season to fill their pantry as no person should go hungry. Thank you in advance for your generosity with this wonderful cause!